South Dakota Hunting Blog
Whitetail Deer Hunting in South Dakota
---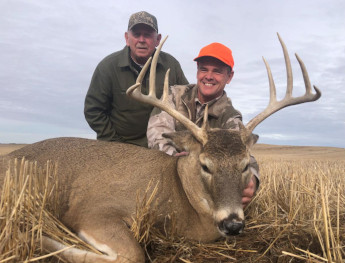 Todd and Chris have hunted with me too many times to count...and its always productive.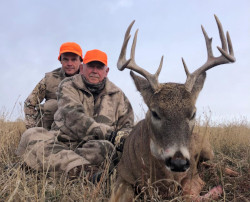 Chris and Todd...
...always come out ready for fun, adventure and a few laughs. We ALWAYS achieve the goal. This time they wanted to hunt BIG South Dakota whitetails. We had a blast and they both took home gorgeous 5 points. Those guys from Alabama keep trying to call them TEN- pointers. HAHAHA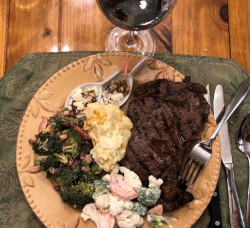 What's for supper...
I run on of the premier hunting businesses in North America. I show my hunters a fantastic time so I can afford to feed them like I like to eat. Here we enjoy ribeye grilled to perfection, blue cheese garden salad, broccoli bacon...or bacon broccoli, German potato salad, a walnut/feta/honey/salami amuse bouche, with a cabernet wine and great desert to follow. AWESOME!
Jim River Guide Service provides The Ultimate Guided Experience for hunters from all 50 states and 13 countries. I enjoy mostly repeat customers because once a hunter experiences my outfit, they tend to keep coming back. Todd and Chris have hunted mule deer, whitetail deer, prairie dogs too many times to count, and buffalo once.
"We had another great trip with Willie. He always seems to do me right. We've seen a lot of deer and passed up a lot that I think most people would have taken. I was able to stalk to within easy range of this great 10-point in the middle of a 640 acre corn field. What a great experience." Todd, AL
While other outfits feed you the bare minimum and say, "You didn't come here to eat, we cheapen our hunts by skimping on food...", we look at it differently.
"I like to eat outstanding food. As long as I am in charge, we're going eat good. I am not in the food and lodging business, I am in the guiding business! But I do a great job and I can afford to eat fantastically and enjoy eating, so were going to eat great. And I'm going to impress you with a hunting experience with the same elevated passion. Expect to have a lot of fun." Willie, Owner and starter-upper of Jim River Guide Service
I built this business from the ground up. Sometimes people call and want to talk to "Jim" or ask me who "Jim" is. That's a good question. I tell them "Jim" is the guy they named the river after where I guide in South Dakota and another "Jim" is the guy they named the river after where I guide in Alaska.
Ask anybody I've guided about their experience hunting with me. Ask them the hard questions and listen to their answers. If you like what they have to say, you'll like doing business with me. I encourage you to visit with ANY of my past customers and give you the names/numbers to do it. There are a lot of reasons why I provide you with the names and numbers of ALL of my customers from last year! Do you know anybody in your business that is willing to do that? If they do, I'd trust them because they are clearly stand-up guys. You can trust me. You like doing business with guys you can trust. Do you remember when that was the standard?!
I am booking 2022 prairie dogs hunts fast right now. If you have a tight schedule, you better get on the stick if you want to hunt with me. I book up every year. If you have more flexibility you can afford to lolly-gag. But why would you want to? I have only a few spots left for buffalo hunting this winter. If you want to fill the freezer with some awesome bison meat, communicate with me and we'll get the ball rolling. Call me today to set up a fantastic hunting experience.
Be ready for fun.
---
Contact Information
Please call or
e-mail
me with any questions or to get a list of ALL my clients from last year.
Jim River Guide Service
Willie Dvorak
432 Railway Avenue
Mellette, SD 57461

Text or phone: 605-228-8162
E-mail