South Dakota Prairie Dog Hunting - Book Your Hunting Trip Now
Willie is known as one of the best prairie dog hunting guides in South Dakota.
E-mail or call him at 605-887-3561 today to book a prairie dog hunt.
Hunting Guide in the game rich James River Valley of South Dakota
South Dakota Hunting Guide and Outfitter including:
Prairie Dog Hunting
Buffalo (Bison) Hunting
Deer Hunting
Pheasant Hunting
Antelope Hunting
Predator Hunting (Coyote, Fox, Raccoon)
Most hunts include rifle and/or bow hunting (archery).
I'm also a fishing guide for walleye fish.
Hunting in South Dakota
South Dakota deer, antelope, pheasant and buffalo hunting are just some of Jim River Guide Service's specialties. We also offer predator/coyote hunting and prairie dog hunting.
Jim River Guide Service is located in game rich South Dakota and includes the Ft. Pierre area - Prairie Dog Hunting Capital of the World! We are located within a one hour drive of the Aberdeen Regional Airport and the Huron Regional Airport. These airports can accommodate all of your luggage, including ice chests, dogs, weapons, etc. We are a vibrant part of South Dakota and Ft. Pierre tourism. My home headquarters are located in Mellette, South Dakota.
Accommodations and Services
We've moved into new headquarters! The facility features 6 bedrooms, 4 bathrooms and 2 kitchens, for over 5,100 square feet to accommodate our hunters and ourselves much better. We offer first rate accommodations. We still focus on small groups that want excellent personal service.
Jim River Guide Service operates on over 100,000 acres of private ground in five distinct areas of South Dakota. I have an extensive network of family and land owners who are interested in your success and satisfaction on your hunt. Contact me today at 605-887-3561.
Jim River Guide Service provides you with an excellent hunting experience. Housing, excellent vehicles and equipment, and first class meals featuring wild game from South Dakota, buffalo, excellent home raised beef, and pork with all the extras are provided with unmatched hospitality. The guide will give you 100% all of the time, good weather and bad. We also can arrange butchering services, taxidermy, air travel, and shipment of trophies/meat at no charge.
Hunting Season Information
Archery deer season runs from late September through late December. Pheasant season starts the third weekend of October and runs through late December. Early hunting is excellent, however, late season hunting can occasionally be even better due to the grain harvesting that generally starts in mid-October and can run well into November. Prairie dog shooting takes place from April through October. The best time for buffalo shooting is December and January. I can call predators all year long. We'll do our best to accommodate you when your calendar allows you to hunt.
Why you should hunt with Willie Dvorak and Jim River Guide Service (JRGS)
When booking a hunt, it is best to use the same rule of thumb as when you buy a scope. Buy the best you can afford. The sweetness of low price is short lived but the bitterness of dealing with a poor hunting guide lasts a lifetime.
I personally guide all of my clients. Before you book a hunt with me, I give you the opportunity to talk to EVERY client that I guided the previous season by supplying you with the names and phone numbers of ALL my clients from the previous hunting season. Call them and ask them hard questions. By listening to their answers, you will see the clear value my business has over my competition. Because I provide the names of ALL my clients, you know YOUR NAME will be going on the list next season so you should have comfort in knowing I have a vested interest in your success. As the owner of the business, you should also know that I have a greater interest in your success than if I was simply putting you out with a hired hand like the other outfitters do. In a perfect world, everybody would care about the business as much as the owner. But we don't live in a perfect world.
There is a demographic that only wants to be guided by the owner of the business because they know what valuable dynamics that brings to their hunt/experience. Because I do all of my own guiding, the hunting is EXCELLENT. Because I do ALL of my own guiding, my time gets spoken for rather quickly. I treat everybody the same. I treat everybody the same when you are booking the hunts ... the first person that puts money across my desk gets the dates. That gives everybody the same chance to hunt with me. When you book a hunt with me, my goal is to get you to come back on another hunt. The best way for me to get you to come back on a second hunt is to show you a great time on your first hunt.
South Dakota Hunting Outfitter
It is sometimes hard to get a hunter to book a hunt with me the first time. However, it is a slam dunk to get them to book a second, third and fourth hunt with me after I have guided them once. I make my living on repeat business. If you have concerns about how to go about choosing a great outfitter, you should find comfort that I do ALL of my own guiding and everyone's name goes on my client lists that I send out to prospective clients. There is a lot of risk in putting the names of all of my customers on a list as a way of demonstrating how good of an operation I am running. I risk other outfitters trying to poach my clients and I risk a client not saying great things about me. If I owned a run-of-the-mill operation, that would be a concern. I do not own a run-of-the-mill operation, I own an OUTSTANDING operation. I have a lot of confidence in my operation and you won't be disappointed that you spent money with me.
You need to know what questions to ask the outfitter that you might trust to take you hunting. You will find out nothing about an outfitter by simply asking fluff questions about Price, Success Rate and Trophy Quality except what his price is. You have to ask the right questions if you want to know if you are dealing with a poor outfitter, a good outfitter, or a great outfitter. Bad outfitters are the cheapest because they have to be. They count on new business every year because repeat customers are a rarity in their books. But there are some bad outfitters that charge a lot. It is up to you to tell the difference between a bad outfitter from a good outfitter from a great outfitter. If you can't tell one from the other, go with one of the cheaper ones and understand that you won't have the success that you would with a better outfitter, but at least you won't spend much money. Outfitters charge what they do because they can't charge more. If an outfitter charges $1000, it is because he can't charge $1200. There are no outfitters that charge less because they don't like money.
When you book a hunt with me, do so knowing that I have your best interest in mind before, during and after the hunt. I am proud of that. Trust that you will get a great outdoor experience when you go hunting with me.

Hunting in South Dakota and Alaska
Along with guiding hunts in South Dakota, I personally guide hunting trips in Alaska for grizzly/brown bear, moose, Dall sheep, caribou, black bear, wolf, and wolverine. Click on the banner below to learn more about the hunts. I have had many clients start their relationship with me by hunting for one species in one state and then finding themselves booking hunts with me year after year in the other state. Return clients are very important to me.
---
Check out our YouTube videos.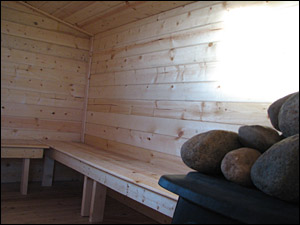 My Trophy Room and Traditional Wood Burning Sauna