South Dakota Hunting Blog
The Ultimate South Dakota Hunting Guide Experience
---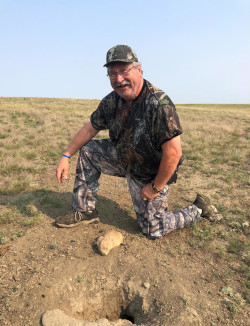 Awesome Help and Great Customer...
Rob can't get enough. He's close enough to go hunting with me a lot and close enough that he helps with hunts even if he isn't the guy doing the shooting. He has an enthusiastic attitude and knows how to bust these prairie dogs. He's been a client hunting prairie dogs, antelope, mule deer, pheasants, prairie chickens, sharptail grouse, shot a brown bear with me at SEVEN yards, and has killed more coyotes with me than anybody. He's welcome in my camp ANYTIME.
Finding good help is the #1 challenge to anybody that owns their own business. I get offers from wanna-be hunting guides to help me for free on a monthly basis. They are hoping to get important experience so they can one day run their own operation. While I'd love to take advantage of FREE help, its not that simple. It takes a special person to make good help in a South Dakota hunting environment. Jim River Guide Service provides The Ultimate South Dakota Hunting Guide Experience. I don't turn everybody down who wants to help, but I have a reputation to uphold so I am very selective.
Granted, I have plenty of team members helping to ensure the experience is awesome for my hunters before, during and after the hunt. However, hunters choose to hunt with me because I do all of the guiding personally. I'm right there making the minute to minute decisions to help you have a brilliant time. That means a lot to anybody who's ever owned their own business. If you've ever been stuck with the second-string hunting guide, I'm not telling you anything you don't already know! You'll only make that mistake once and then you will insist on being guided by the owner.
This Week:
>Fred booked his first coyote hunt with me.
>Aaron just booked his 5th hunt with me, this time for bison.
>Mike booked a prairie dog hunt (his 14th hunt with me!).
>Bart re-signed for his 7th prairie dog hunt with me.
"Repeat customers are the goal...you get them by providing the BEST experience when they get here the first time."
I am proud of the service I provide my customers before, during and after the hunt. You will find it to be very valuable. By dealing with me PERSONALLY, I can often times save guys the cost of the hunt in gear choices and logistics. Could that really be true? That is a bold statement but true. It is especially true with unguided moose hunts and prairie dog hunts! That means you could go TWICE for the cost of ONCE.
"I had so much fun this spring I had to come out again. You aren't going to believe the number of prairie dogs Willie has. If you've ever thought you wanted to do it, don't even think about out. Book the hunt with Willie and know its going to be all good." Rob, SD
---
Contact Information
Please call or
e-mail
me with any questions or to get a list of ALL my clients from last year.
Jim River Guide Service
Willie Dvorak
432 Railway Avenue
Mellette, SD 57461

Text or phone: 605-228-8162
E-mail