South Dakota Hunting Blog
South Dakota Super Trophy Buffalo Hunting
---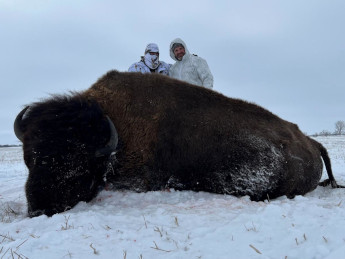 A Super Trophy Bull is the biggest nastiest beast on the prairie. Most people don't understand just how big they are because they are used to seeing pictures of "normal" size buffalo. Scott (with his pal Tony) did some great shooting to put this huge bull down. We did everything we could to get closer, but we had to shoot at 250 yards. Great job Scott.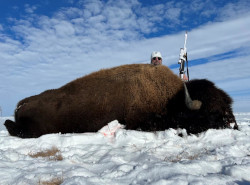 Craig's experience...
Your search for the most authentic buffalo hunting experience keeps bringing you back to JRGS. Ask Craig why his experience was absolutely AWESOME. He took this gorgeous Trophy Bull with his 33 Nosler. Great job.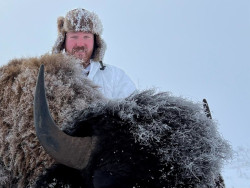 Big Smiles:
It looks like it was a cold day for GA Hunter. It was super cold! Look at the extraordinary length of the horns on Hunter's Trophy Bull. That is amazing. What a great guy to have in camp. This bull will look fantastic on his trophy room wall. Does your trophy room have an American bison in it?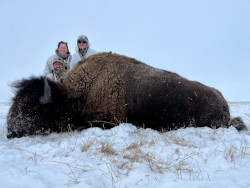 OMG:
These Super Trophy Bulls are incredible! My pal Matt helped as Randy and I snuck into position on this massive Super Trophy Bull. We were able to put the kibosh on him at 200 yards. It is hard to make people believe how big a Super Trophy Bull really is. Come hunt with me and you'll find out!
Jim River Guide Service provides The Ultimate Guided Experience to hunters who want the best buffalo hunting experience possible. We prove it over and over again.
"This keeps getting better and better. I can't believe the professionalism and friendliness of the guys you have doing the butchering and taxidermy, everybody you have doing work for you. I can see why you use them. These guys are all great and that says a lot about you and your operation." Tony, CO
There are a lot of guys that do butchering and taxidermy. I use the guys I use because they are the right guys. I could do it differently, but headaches cost me money, time, energy. Cutting corners does nothing but cause problems and it's an ass-ache for my hunters. I don't need that.
I didn't get my reputation by doing things half-way. Expect a fantastic experience when you hunt with me. Know I have your best interest in mind and I'll tell you the right way to get it done.
"I don't know where to begin, but what an incredible experience with JRGS. Four perfectly placed bullets on the giant trophy bull and he took a nap on the South Dakota prairie. The experience setting up on this trophy bull was exhilarating and tense. I am pumped." Zack, WI
There's lots of reasons so many hunters book their American Bison hunt with me. It starts with me providing a thrilling experience. I provide the names of ALL of my customers from the previous season instead of a cherry-picked reference. I can afford to because my hunters love the way I conduct business. I am proud of that.
Let's get your picture on one of these newsletters. Contact me right now if you like doing business with somebody like me. Call, text or email me. You be glad you did. Call me to fill that freezer with high-quality meat.
---
Contact Information
Please call or
e-mail
me with any questions or to get a list of ALL my clients from last year.
Jim River Guide Service
Willie Dvorak
432 Railway Avenue
Mellette, SD 57461

Text or phone: 605-228-8162
E-mail