South Dakota Hunting Blog
Pheasant Hunting Vs Prairie Dog Hunting in South Dakota
---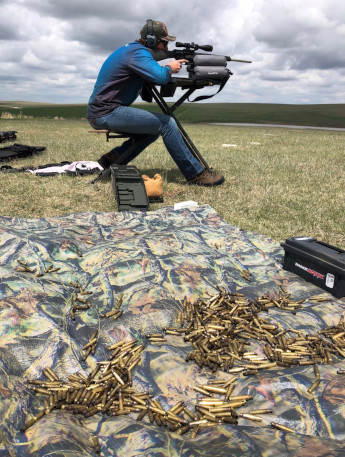 Happiness is a large pile of brass!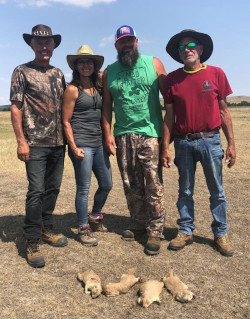 <
Gary, Wendy, Matt and Paul
This crew had more fun shooting prairie dogs than you'll ever have hunting pheasants. With pheasants, you have to stop after you've shot three. But with prairie dogs you have NO LIMIT. "And you don't have to walk your sack off to get a tremendous amount of shooting fun." Do I need to say more? Bring a lot of ammo and be ready to heat up those barrels. Be sure to ask Wendy who had the furthest shot after the first day! Great job.
Jim River Guide Service is the premier prairie dog hunting destination in the world. I provide The Ultimate Guided Experience. Expect lots of shooting and lots of fun. Don't risk it by going anywhere else.
I provide the names of all of my clients from last year instead of a cherry-picked list of "references". That's the high-integrity way of doing business. Text me or email me to get the list of ALL of my prairie dog hunters from last year. Then start calling them. Ask them the really tough questions. Here's a few good ones to start out with:
1) Was Willie able to sidestep rains as good as he claims?
2) Does Willie have great integrity?
3) Does Willie personally guide everybody?
4) Can I trust Willie.
5) Did you ever shoot the same town twice?
6) Should I consider booking with anybody else?
"We've been going out west for pheasant hunting for years. I guess we had some friends that did it and we just came along for the fun of it. But the hunting hasn't been as good as it used to be. This is the first time we ever tried prairie dog hunting. That's how we met you. You should tell everybody about this prairie dog deal. We've had more fun on this trip than any pheasant hunt we've ever been on. The amount of shooting and the amount of fun prairie dogging is a lot better. We're all looking forward to doing more of this." Brian, MN
A great hunt starts with reasonable expectations. I'm not telling you anything you don't already know when I say "The LAST place to look for pointers is a blog site". They are filled with internet pervs that have no skin in the game. They boldly make big claims but have ZERO accountability to back it up, so it's easy for them to offer big-talk. If they never have to put their money where their mouth is, there's nothing stopping them. Think about the advice you'd give your daughter. Would you tell her "There are some really good guys on this hunting blog site that I go to, you should get in touch with some of them...they seem like real straight shooters!" NOOOO! It is foolish to listen to people who have no skin in the game.
"Trust JRGS to deliver a fantastic prairie dog hunt."
This Week:
>Michael and Rick booked two buffalo hunts.
>Jeff booked his 7th prairie dog hunt with JRGS.
>Greg just booked his first prairie dog hunt.
Call, email or text to experience an extreme amount of shooting. If your buddies can come, bring them too. Otherwise come by yourself. Let them miss out. They'll come next year after they hear how much fun you had THIS YEAR. There is no substitution for the fun of live target shooting!
---
Contact Information
Please call or
e-mail
me with any questions or to get a list of ALL my clients from last year.
Jim River Guide Service
Willie Dvorak
432 Railway Avenue
Mellette, SD 57461

Text or phone: 605-228-8162
E-mail