South Dakota Hunting Blog
South Dakota Hunting
---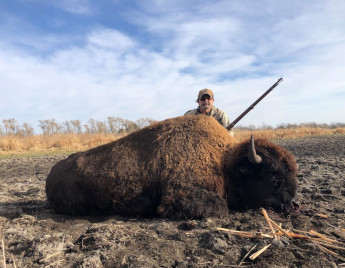 Compare my meat bulls! Kevin used my Lucrecia Borgia on this BUFFALO BULL...come get yours!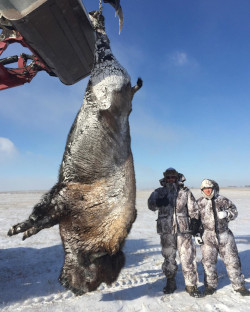 Another hunt for Dave...
Dave first hunted with me 15 years ago. Since then he's shot several buffalo. He and his family have also hunted prairie dogs, archery antelope, and coyotes too many times to count.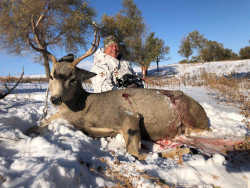 Mark just booked another hunt...
Mark has hunted moose and brown bear with me 3 times and bison, archery mule deer and rifle mule deer with me in South Dakota several times. He just booked ANOTHER moose/brown bear hunt with me. Thanks Mark!
Jim River Guide Service provides The Ultimate Guided Experience.
Ask hunters who've hunted with me. Once you've experienced the difference in the way I conduct hunts and the other guys conduct them, you'll be hooked. There is a big difference from one outfitter to the next. I'm not telling you anything you don't already know!
When you find an outfitter that you like, you are sometimes limited to how many times you can hunt with them because they only offer 1 or 2 quality hunts for different species. I offer incredible hunts in South Dakota for everything from prairie dogs to buffalo. There's a lot of reasons to keep coming back, especially when you enjoy the professionalism, hustle, logistics, trophy quality, personal interaction, and performance of JRGS.
RIGHT NOW:
It is time to book your American Bison hunt with me for this November-February. Compare the size of my MEAT BULLS with everybody else. If you want the biggest of the biggest, you want to ask about my SUPER TROPHY BULLS. They are in a class by themselves. Then ask my past clients about the overall experience. You'll quickly see why I am the premier bison hunting destination in the world.
My repeat customers have a huge leg up on guys that haven't hunted with me before when it comes to booking hunts, especially short notice hunts. It's because repeat customers KNOW what they are getting into and they don't have to spend time calling past clients. I'd suggest that if you want to jump on one of the last minute hunts I sometimes advertise, do your research NOW. Then you'll be able to strike when the iron's hot.
Call me today to get your hunt scheduled. I will gladly speak on the phone to you, text or email.
---
Contact Information
Please call or
e-mail
me with any questions or to get a list of ALL my clients from last year.
Jim River Guide Service
Willie Dvorak
432 Railway Avenue
Mellette, SD 57461

Text or phone: 605-228-8162
E-mail