South Dakota Hunting Blog
South Dakota Hunting Guide and Outfitter
---
Prairie dog hunting is for those who like to have fun hunting when no other season is open.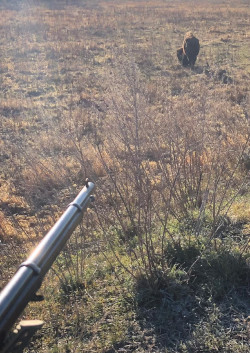 Lucretia Borgia
What a great pic! The rifle is my original 1866 Springfield trapdoor in 50-70 with an Allin conversion. It matches Buffalo Bill's preferred rifle. This bull has no idea we are there. If he did, he'd be stampeding off because the buffalo we hunt aren't like the ones in parks or zoos or smaller operations that have been trained by thousands of tourists to stand still for the camera...the bison we hunt are scared to death of humans.
"The number one thing you should ask any outfitter that you are considering booking a hunt with is for a list of ALL of his clients from the previous season. It is too easy to "fake it" with a brilliant website nowadays." ...then start calling them and see if his boasts about his outfit are legit.
I started Jim River Guide Service 23 years ago. I cultivated it into one of the premier buffalo and prairie dog hunting destinations in the world. Honesty, integrity, hustle and professionalism aren't just empty claims. They are the foundation of my hunting business and the philosophy of the way I do business. That's a big deal.
I personally guide all of my hunters, so you don't have to worry about what guide you're going to draw when you get into camp. If you run a business yourself, you know how important that is. Cut the risk and insist on being guided by the owner of the business. The number of repeat customers I have is incredible.
"We've been talking about it forever. I decided that I am going by myself this year because I'm tired of waiting for my friends to make up their mind. If I keep putting it off, I'll be like those guys that never got to go. That would break my heart."
Should you ask for a reference list or insist on a complete customer list? There's a lot of reasons why I insist on sending the names of ALL of my clients from the previous hunting season to would-be customers. It dispels any doubt about my legitimacy. It is foolish to book a hunt with an outfitter that hasn't provided you with a list of ALL of his customers from the previous year. If your group is expecting you to pick a good outfit, trust me to make you look like a star.
Researching a hunting outfit has never been easier. You can go to my Facebook page and see every single animal that my hunters take. I'm putting my money where my mouth is. Then compare them to the animals the other outfits are taking, if you can. In today's day and age, every outfit has the means to post those pics. There's a reason they don't and it's not a good one. Do you want to trust your business to somebody that proves what he's doing or somebody that wants to get by with just a promise? I know who'd get my business. Here is an easy link to my Facebook page.
If you book your hunt based on empty promises, you get what you deserve. If an outfit shows you the pic of 10 happy hunters, that appears really nice on the brochure. But if they took 20 hunters, then it is not so hot. We hear what we want to hear, but if you're only getting to talk to 10 guys on the "reference" list, you aren't getting a clear picture of what that outfit is all about. If you are in charge of research for your group, that isn't due diligence. It is important to hear from the other 10 guys. Ask them about their success and their experience. I provide the names of ALL of my clients and I post the pics. I am proud of that because I am putting my money where my mouth is.
Text or phone me at 605-228-8162 or e-mail me to get the ball rolling on a fantastic spring or summer prairie dog hunt. Or contact me to lock in an incredible bison hunting experience on big country. You can see the pics of ALL of the buffalo we took last year on Facebook. Start out by asking me for a list of ALL of my customers from last year.
---
Contact Information
Please call or
e-mail
me with any questions or to get a list of ALL my clients from last year.
Jim River Guide Service
Willie Dvorak
432 Railway Avenue
Mellette, SD 57461

Text or phone: 605-228-8162
E-mail