South Dakota Hunting Blog
South Dakota Buffalo Hunting
---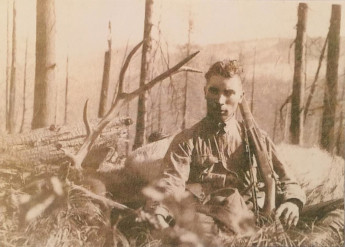 In 1912 my granddad drove from Spink County, SD to Jamestown, ND, hopped a train into WA, then rode a stagecoach back into ID and rode a horse up the mountain to hunt this elk. The trip took nearly a month. I and my family have been going on big adventures ever since. When you book a trip with JRGS you are booking with a family that has a long heritage of doing fantastic destination hunts. Trust me to do it right for you. How would you like your family to look at a picture like this of you with a big old bull buffalo in 110 years?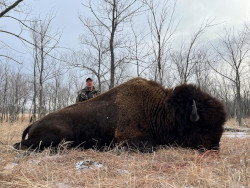 Brent and Kris came from WA to hunt buffalo. Brent took this fantastic black beauty at less than 100 yards with his 30-06.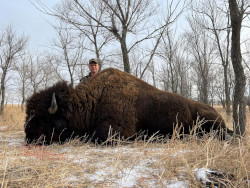 Kris and his 30-06:
Kris has been shooting his 30-06 for 17 years and it put this Trophy Bull down for the count with only 3 bullets. Great shooting Kris. You and Brent are great to have in my hunting camp! Thanks for taking the lead and setting up the hunt.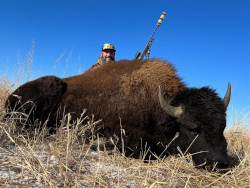 Repeat hunter Andy:
We snuck to within 40 yards of this dandy Buffalo Meat Bull. Two perfectly placed 300 Win Mag bullets cleanly dispatched the Meat Bull. It will feed a lot of families. Let me know if you want to donate all or part of your meat. I'll take care of all of the logistics.
Book your hunt with Jim River Guide Service and enjoy The Ultimate Guided Experience. You will be trusting your hunt to a family with a hunting heritage that goes back a long way. Trust me to lead you through the steps to enjoy an awesome trip. This week we killed two awesome Trophy Bulls with 30-06 rifles!
"I love to see a person show up with a beat-up 30-06. It means he's been shooting it for many years and knows how to use it!"
There has always been and always will be a trend to towards going big when selecting rifles. The 30-06 has proven itself to be a fantastic killer in the field. The 30-06 delivers. I've guided over 1,700 hunters and I can recall losing exactly zero animals while my hunters were shooting a 30-06. That's saying something. Zero is a hard number to argue with. It proves the shootability of the caliber. That's a big deal. The 30-06 has both excellent accuracy and devastating power. Because of low recoil, it puts the bullet where you want it.
"When a hunter shows up with a 30-06, it doesn't scare me one bit!"
---
Contact Information
Please call or
e-mail
me with any questions or to get a list of ALL my clients from last year.
Jim River Guide Service
Willie Dvorak
432 Railway Avenue
Mellette, SD 57461

Text or phone: 605-228-8162
E-mail