South Dakota Hunting Blog
South Dakota Prairie Dog Hunting is Lots of Fun!
---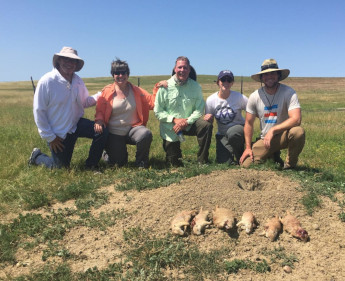 Mary and Mark and their family from Alabama having fun on the prairie.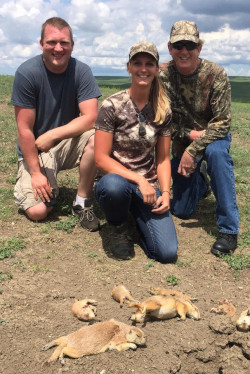 John, Dana and Zane...
Prairie dog hunting is fantastic for families or just groups of friends because it is all about fun and having some laughs. Unlike pheasant hunting, you can sit within earshot of each other to visit, tell stories and talk about your pals back home that missed the hunt again! "The best vacation ever!" Dana, MI
I am still getting calls and emails about the RIFLE DEER HUNT opening I had a week or more ago. They were sold within an hour. When I announce a hunt opening, they are always sold within 48 hours.
Jim River Guide Service is gearing up for another year of incredible shooting. Book your hunt to get The Ultimate Guided Experience. Do you know why hunters keep coming back time after time and year after year to hunt everything from prairie dogs to deer, to buffalo with me personally guiding everybody?
Book a prairie dog hunt and find out why my hunters are so loyal. If you've never hunted with me, it's the perfect way to see the difference for yourself. Prairie dog hunting is cheap and takes place at a time of year when there is nothing else to hunt. Let the working stiffs endure another grueling week of working their rear-ends off while you enjoy great fun on the prairie!
"If you are ready, but waiting for your friends to commit, you'll likely never go." Dave, IN
The prairie dog numbers are crazy! We start hunting them in April and quit in October. You won't have to worry about getting your fill when it comes to shooting opportunities. I like to have 4-6 shooters in the field at once. That way EVERYBODY gets all of the shooting they can stand and I get to know everybody. I'm a people person and like to get to know everybody! If you are a single shooter, or part of a pair of guys that would like to hunt with a small group of other like-minded hunters, call me now. I have several spots I can put you in.
"Integrity and honesty aren't just empty claims at Jim River Guide Service. They're the foundation of fantastic working relationships I've built with hunters that appreciate TRUST. Trust me to do it right. Willie
Prairie dog hunting is all about fun. If you can leave a prairie dog town in a bad mood, you have some serious personal issues you need to deal with. Call me to book a summer-time trip that will improve your shooting, provide lots of laughs and give you a well-deserved vacation. I'm the guy to give you every chance to have a great prairie dog hunt.
---
Contact Information
Please call or
e-mail
me with any questions or to get a list of ALL my clients from last year.
Jim River Guide Service
Willie Dvorak
432 Railway Avenue
Mellette, SD 57461

Text or phone: 605-228-8162
E-mail