South Dakota Hunting Blog
Best Shooting Practice EVER
---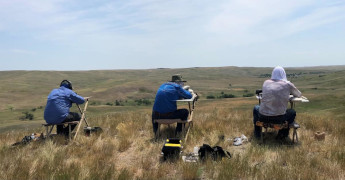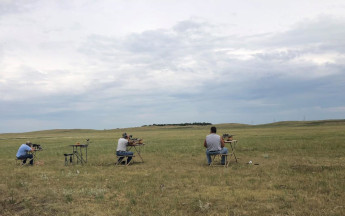 A million dollar view and live targets galore! Dodging rains is only one of my skills.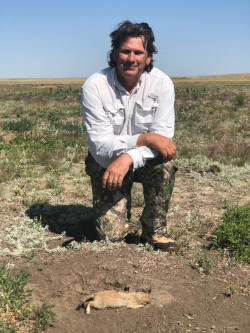 Experience matters...
I have over 1,500 days experience guiding my hunters in prairie dog towns. I've guided over 1,500 prairie dog hunters. I've watched over two million rounds fired at prairie dogs. WOW! There might be someone with more experience than I have but I don't know who it would be. I'll make you even a better shooter than you already are. Don't believe that's possible? Ask any of my customers!
We are lighting up the prairie dog towns with lots of gunfire at Jim River Guide Service. It's exciting. Talk to me if you'd like to enjoy The Ultimate Guided Experience. You can't help but leave here a better shooter. When you return to hunt big game, you will make a better shot on that brown bear, moose, buck deer or bison. It is fun to get better at something that you are already good at. Ask any of my clients.
Bruce has hunted 5 times with me. This time he brought his budedy Dan. While they did not break my all-time record shot of 1,316 yards on a prairie dog, they did break the 1,000 mark. Their long shot for the trip was 1,007 yards. AWESOME. Matt also returned for the 10th time with me. It means a lot when guys keep coming back for a fabulous time hunting. It also is evidence I provide a fantastic experience!
First time JRGS clients Jeff, Aaron and Todd were blessed with one of the best days of shooting ever. "The prairie dogs didn't even seem to know we were there. They were staying up so close and just stood there and took it." I watched one of the guys shoot over 20 times at one prairie dog that stood for him at 147 yards (I don't want to mention any names). That kind of unbelievable opportunity happens rarely, but every year we get a day or two of it. These guys got it! "You know you'll never get the perfect day if you don't roll the dice and go hunting!"
I am proud when I can take good, average or poor shooters and make them great shooters in just a day. That is a skill they will use the rest of their lives. Is there room for improvement? Do you think anybody can make you a better shooter? I'll bet I can.
"We had a great time again. We never got the record this year. But next year we have something to shoot for." Bruce, MI
If you've hunted with me before, you know the extra value honesty, professionalism, integrity, hustle, and trust that I maintain and deliver in AWESOME hunting areas in Alaska and South Dakota. If you are one of the guys that has never hunted with me, call me today to set up a great hunting trip. You will quickly see why so many hunters keep coming back year after year. "I don't attempt to deliver on other people's promises but I deliver on mine in spades! All I can do is tell you the way it is." Be ready for a great experience that is well worth the money.
Short Notice Dates Open: If you are the kind of guy that procrastinates or you just like to do fun things at the drop of a hat, this might be for you> > > I have July 19-27 open on my calendar for prairie dog hunting or a meat bull bison hunt. As you know, these short notice hunts sell out within 48 hours of announcing them. Call me right now if you want to put your name on any of these dates..... I treat everybody the same. The first person to call with a credit card to make a 50% nonrefundable deposit gets the dates. That gives everybody the same chance to do business with me.
Contact me now to get a thrilling American Buffalo hunt booked for this winter. You will never regret booking the hunt with me. There are many reasons I provide the names of ALL of my customers. There are many reasons my competition doesn't! Don't risk it, book your next adventure with me.
---
Contact Information
Please call or
e-mail
me with any questions or to get a list of ALL my clients from last year.
Jim River Guide Service
Willie Dvorak
432 Railway Avenue
Mellette, SD 57461

Text or phone: 605-228-8162
E-mail