South Dakota Hunting Blog
Picking The Best Place To Go Hunting
---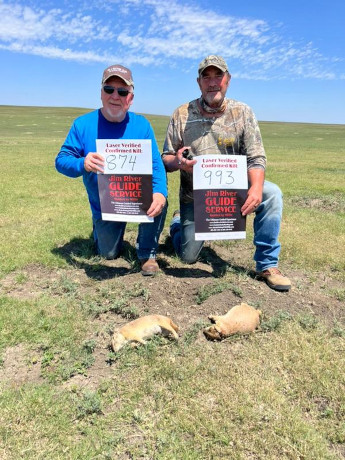 Bruce and Dan have both hunted with me many times. You can always count on them to have great kills. They went for the all-time JRGS record but came up short this time. You can bet they'll cone with their barrels loaded next year! They're great guys to have as customers.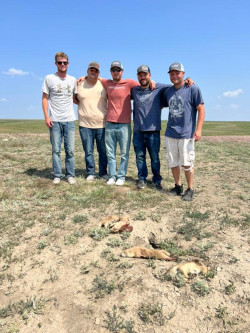 New customers...
Jared had the responsibility of wrangling schedules of 5 guys to get them on a spectacular prairie dog hunt. It's not easy to pick the best place to go hunting. JRGS made Jared look like a star. We got excellent shooting and even got a couple cracks at two coyotes. Call us if you want to be sure your group has a great time. Jared, Dallas, Blake, Beavis, and Justin got fantastic prairie dog hunting. Jared led the crew with his long shot of 916 yards!!!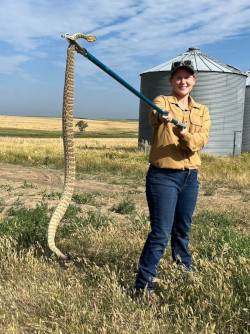 Learning Skills...
I'm doing my job of continuing to teach Annie skills just about every growing girl needs. Catching rattlesnakes without getting bit is one of them. "She's got her momma's good looks and her daddy's sense of balance." - Randy Quaid
Picking the Best Hunting Spot...
Every year I get guys calling me who've been tasked with picking the best place to go hunting. Each year I make them look like a champ. There's ALWAYS a risk when picking an outfitter. I eliminate the risk because I provide the names of ALL of my clients from the previous season, instead of sending you a hand-picked list of names. My competitors try to trick you by cherry-picking the names of guys they know will tell you they walk on water. It's foolish to pay them off with your business.
Jim River Guide Service provides The Ultimate Guided Experience. When searching for the best option for hunting prairie dogs or American bison, there's a lot of reasons why we keep popping up on your internet search. More people have trusted JRGS than any other place to hunt American Bison or prairie dogs on the big country of South Dakota.
I'm proud to say I have personally guided more American buffalo hunts than anybody in the world. Hunters trust me to do it because they know it's going to be a adrenaline pumping experience. They also know the outfits that let them plink one out of a side-by-side or in a feedlot don't offer the thrill of the hunt like we do.
So they give me the opportunity to prove I'm the best. And I deliver in spades.
"We wanted to see how you did it. It's clear to see you've got your stuff together. Everybody had a great time. I look forward to coming back." - Jared, WI
"I fulfilled a lifetime dream with you today. I've wanted to hunt buffalo and have been following you for several years on Facebook. I made the right decision by going with you. You're the best." - Terry, MN
Jim River Guide Service is the premier prairie dog and buffalo hunting destination in the world. Contact us to enjoy The Ultimate Guided Experience.
Contact Information
Please call or
e-mail
me with any questions or to get a list of ALL my clients from last year.
Jim River Guide Service
Willie Dvorak
432 Railway Avenue
Mellette, SD 57461

Text or phone: 605-228-8162
E-mail