South Dakota Hunting Blog
Exciting Bison Hunt
---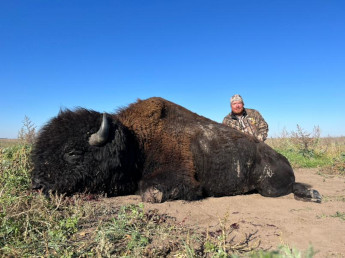 BIG AND BLACK: This is a TROPHY BULL taken by Rick, from CO. We were only able to get within 150 yards of this huge bull without fear of stampeding them. No worries, Rick's shooting was excellent. He was bedded in his wallow with 4 other smaller buffalo. This was the pick of the litter. Four good shots from his 300 Win Mag and he sealed the deal. It is a FANTASTIC specimen.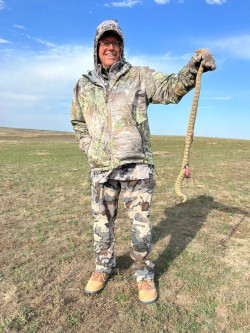 Mike returns...
Mike has hunted all over the world with many outfits. "Willie is the only guide I've hunted with more than once. I've hunted with him 20-30 times, sometimes 2-3 times a year. I use him because he's the best." Our coyote hunt was stifled with huge rains and wind gusts of over 50 mph. The coyotes were elusive but Mike was able to kill a few prairie dogs and this rattlesnake that crept up to him as we were calling. Mike is 80 and still enjoys hunting! I always enjoy guiding him.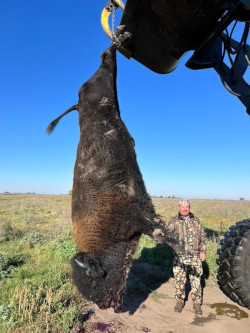 No camera tricks...
On occasion, I get accused of using photo tricks to fool people about the size of the buffalo we hunt. There's no trickery. They are huge. Nobody in the business consistently produces bigger animals. That's why mine look so much bigger. It's one of many reasons JRGS is the premier American buffalo hunting destination in the world. I am proud of that. This is Rick standing beside his big black TROPHY BULL as we hoist it up to put it on the trailer to get it butchered.
Jim River Guide Service delivers The Ultimate Guided Experience.
We are the premier bison hunting destination in the world. Call me for an unforgettable experience hunting huge buffalo on big country. You're likely to do this hunt only once in tour life. Do it right.
"This was everything I hoped it would be. I was excited when we were getting close. When it stops being a rush, I'll stop hunting. This was AWESOME!" - Rick, CO
MY HUNTS ARE A DIFFERENT DEAL. We hunt them on big country. They are scared to death of people. If you want a thrilling experience, call me.
If putting an American bison in your trophy room or filling your freezer with buffalo meat is in your plans, give me a call. We hunt them on big country and it's a thrilling experience. You won't regret it.
Contact Information
Please call or
e-mail
me with any questions or to get a list of ALL my clients from last year.
Jim River Guide Service
Willie Dvorak
432 Railway Avenue
Mellette, SD 57461

Text or phone: 605-228-8162
E-mail