South Dakota Hunting Blog
Buffalo and Prairie Dog Hunting
---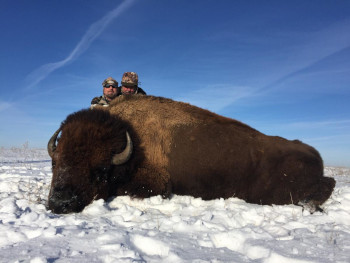 It is time to book your USA Bison hunt and avoid travel restrictions of going out of the country. Nobody provides a better American buffalo hunting experience than JRGS. Do you want to hunt a Meat Bull, Trophy Bull or Super Trophy Bull?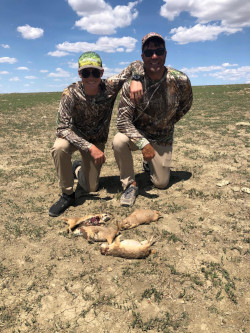 Norman and Jackson...
It was a fantastic experience to guide retired fighter pilot Norman and his great son Jackson. They experienced one of the best days ever on their first day. The mirage and wind made their second day extremely challenging. But they didn't let that prevent them from having plenty of fun due to their excellent attitudes. That says a lot about their character. When Mother Nature deals you a challenge, you have to adapt. Norm and Jackson are ALWAYS welcome in my hunting camp!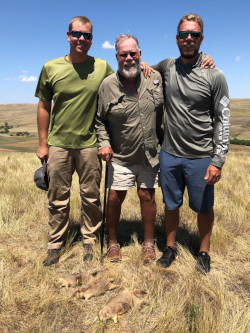 The Favorite Uncle, Uncle Carl...
Carl brought out his nephews Stephan and Dan to enjoy an awesome prairie dog hunt. It was a fun group and they did some spectacular shooting. They are already making plans to hunt next year and I can't wait. It is always great to get new customers that quickly become REPEAT CUSTOMERS. Thanks for the business guys and GREAT job shooting.
Jim River Guide Service provides The Ultimate Guided Experience on the prairies of South Dakota and the tundra of Alaska. 1,500+ hunters can't be wrong! With the Fourth of July celebrations behind us, people will be booking their bison hunts at full speed. Call now and get ahead of the pack.
I personally guide all of my hunters. There is a huge value in that. If you own your own business you know how much better that is.
Prairie dogs: If I have told you that I am booked up for prairie dog hunting this summer, listen up. I now have some open dates. If you were wanting to do a prairie dog hunt, call me now before somebody else gets the dates. Expect to get a lot of shooting and expect to kill prairie dogs at distances that you never thought were possible.
Immediate Opening Available: Prairie dog ammo is readily available again. You can get all you need in 3-5 days! If you've been using the ammo shortage as a reason not to go prairie doggin', it is time to do it! July is the best time to hunt prairie dogs. Dry dust, short grass and sunny weather make for perfect shooting conditions. I just had to cancel prairie dog hunts for mid and late July. That give you the chance to get in some summer hunting fun if you are the kind of guy that can (a) make a great decision faster than the other guys, and (b) have the ability to drop things and get to South Dakota within the next few weeks. I sell out every year so last minute openings are rare. Here is your chance to come back for another trip with me and not have to have the trip on the books for months/years in advance.
"We had a great time with you Willie. I'll be calling you to set up a hunt for next year just as soon as we can get our schedules figured out." Carl, LA
If you've never hunted with me, you should know that I send out the names of ALL of my clients instead of a cherry-picked reference list like the other outfits do. There is a reason they don't send you the names of all of their hunters...and it's NOT a good one. I do, call me and find out why.
This Week:
>Al just booked his Trophy Buffalo hunt.
>Tom booked his Super Trophy Buffalo hunt.
>Richard and Craig booked their prairie dog hunts for 3.
These guys are all going to have a splendid time! Call me to set up a great trip for YOU or you and your group.
*Remember that if you are wanting to communicate with me during August and September, I am usually off the grid guiding my Alaska hunters. Call me before then to get to enjoy fantastic communication skills. My ability to communicate from the bush during August and September is poor.
Call or email me now if you want to add a bison to your list of memorable hunts for 2021. If you can drop everything to go hunting, call or email me now to book the July dates for prairie dog hunting fun. Its a target rich environment! You only live once.
Text or phone 605-228-8162 me today.
---
Contact Information
Please call or
e-mail
me with any questions or to get a list of ALL my clients from last year.
Jim River Guide Service
Willie Dvorak
432 Railway Avenue
Mellette, SD 57461

Text or phone: 605-228-8162
E-mail