South Dakota Hunting Blog
Dodging The Rain When Buffalo and Prairie Dog Hunting in South Dakota
---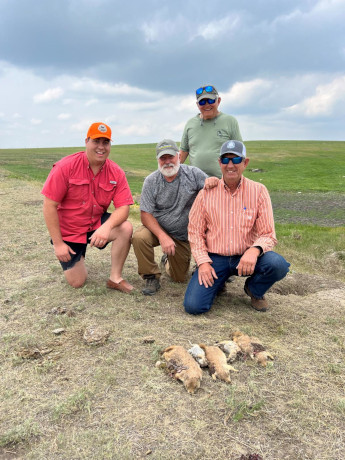 Wheel, Lamar, Leon and Ricky were a pleasure to have in my hunting camp. They got two fantastic days of prairie dog shooting while other hunters at my competitor's places were rained out big-time. BUT NOT US! These guys like to have fun and I look forward to them coming back. Next time bring Johnny out!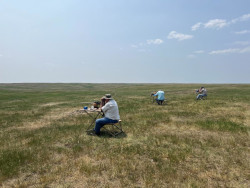 New customers...
Bob, Bill and Bill have hunted prairie dogs all over the country by the sounds of it. This time they chose to hunt with me. They are three good guys. Thanks for the business fellas!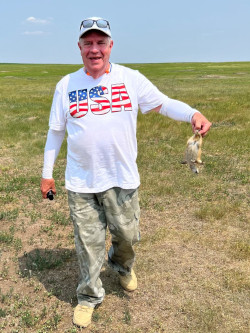 Count on some laughs...
...when Jim, from Minnesota shows up. He is on his second heart and has a fantastic optimistic attitude with everything he does. Last year he was hoping to come out here once in his life. This year he returned and we all hope to see him again next year! It was great seeing you again Jim.
Jim River Guide Service provides The Ultimate Guided Experience even when others are getting rained out.
Every year I watch hunters come in to hunt prairie dogs on a whim and a prayer that they will get some shooting. Then when rains come in, they wish they'd have been smarter when booking their trip.
There were dozens of shooters put out of business because of the big rains. BUT NOT MY GUYS! My guys followed me out to one of the many dog towns that I have spread out over 100 miles. We found a fantastic day of shooting because of it.
Here's what to look for when planning your buffalo or prairie dog hunting trip:
Be guided by the owner of the business...He should stay with you all of the time in case the shooting gets bad.
Don't go with anybody that won't give you the names and numbers of ALL of his clients from last year.
Don't go with somebody that doesn't have lots of prairie dog towns spread out over a lot of area to avoid rains.
Go with a hunting guide with at least 1,000 days experience guiding prairie dogs (If a guy has 30 years of experience but has only 3/days/year...that's almost as much experience as I got LAST YEAR!
I am proud to prove I am the best in the world when it comes to dodging rains on a prairie dog hunt. I prove it over and over.
Besides having more experience hunting prairie dogs than anyone else in the whole wide world, nobody has personally guided more American Bison hunts than yours truly. I am proud of that. If you are looking for the most authentic buffalo hunting experience, I am your guy.
Call, text or email me now...texting will get the fastest response because I am guiding a hunt almost everyday.
Contact Information
Please call or
e-mail
me with any questions or to get a list of ALL my clients from last year.
Jim River Guide Service
Willie Dvorak
432 Railway Avenue
Mellette, SD 57461

Text or phone: 605-228-8162
E-mail