South Dakota Hunting Blog
Summer Bison and Prairie Dog Hunting
---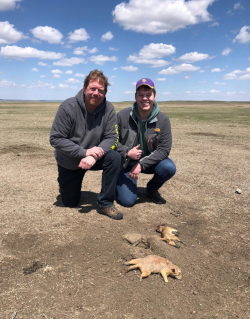 Kent and Tucker unwinding in South Dakota for a few days. They are great guys!
Summer Bison Hunting...
...Repeat customer Dave took this HUGE bull in July. And it filled his freezer with fantastic bison burger. I sold it as a TROPHY BULL but it had the body weight of a SUPER TROPHY BULL. I've always found it best to under-promise and over-deliver...Trust me to deliver on my promises.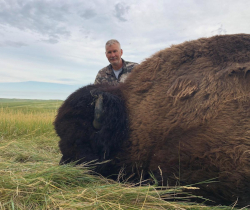 Time spent hunting with your father/son is NEVER wasted. Kent and his son Tucker will vouch for that! They enjoyed a great time on the prairie where prairie dog numbers are EXTREMELY high. It's a target-rich environment!
While hunting, we drove past thousands of American Buffalo. If you would like to add a bison hunt to your prairie dog hunt, even for just one of the guys in the group, CALL me today because I can make it happen. My professional butcher is able to get the whole thing cut, wrapped and frozen quickly for you to TAKE BACK WITH YOU. He's the best and can do any cutting you want..."He can do anything but make a silk purse out of a sow's ear." Why not go home with a freezer full of meat!!!
Because of the proximity of the buffalo to the butcher, you don't need to worry about the warm air temps of summer. We'll have the buffalo hanging in the cooler lickety split so your meat turns out right. Rest assured we've done this many a time and the meat will be AWESOME.
"We had a really enjoyable time. You did a great job guiding us. We needed a little vacation time and this was the right way to get it." Kent/Tucker, MI
When you add bison hunting to your prairie dog hunt you get these advantages:
1. Save $$$ by not tanning the hide
2. Get an AWESOME buffalo skull to hang/display
3. Fill your freezer with fantastic meat
4. Don't worry about the cold weather of Dec, Jan and Feb
5. Don't worry about walking in snow or wearing snowshoes
6. Save the travel costs because you are already here
7. Take back a slug of meat to share with your friends back home who missed out on the fun prairie dog hunt
8. Get a thrilling experience hunting the LARGEST land mammal in North America!
This Week:
>Long time client Rex and Brandon booked another prairie dog hunt.
>New clients Bill and his partner booked their late summer prairie dog hunt.
>Eric got his archery antelope hunt booked.
Your buddies back home will be envious and appreciate the meat if you share any with them. They might even throw you a little cabbage to help pay for it in return for some of the meat. Summer add-on hunts will be gunpowder only, not archery. Call me today to get the details such as price and caliber requirement. Do you have a rifle fit for the job that you would like to try out or christen?
Text or phone 605-228-8162 me today.
Contact Information
Please call or
e-mail
me with any questions or to get a list of ALL my clients from last year.
Jim River Guide Service
Willie Dvorak
432 Railway Avenue
Mellette, SD 57461

Text or phone: 605-228-8162
E-mail