South Dakota Hunting Blog
Bow & Rifle Deer, Bison & Antelope Hunting
---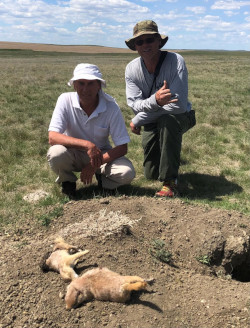 Leon, Greg and Tom (not pictured) got two of the best days of prairie dog shooting conditions ever.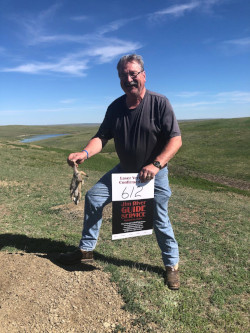 Long time hunter...
...Rob has hunted Alaska Brown Bear, Archery and Rifle Whitetail, Mule Deer, Bison, Antelope, and upland birds with me. He's also probably killed more coyotes with me than anybody else. And he's killed a lot of prairie dogs. You may recall seeing him in Peterson's Hunting with a giant mule deer he shot with me recently! He keeps returning because I deliver on my promises.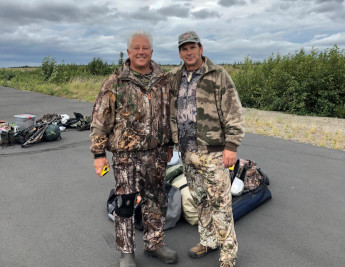 Mark...
..Mark, OH and myself getting ready to fly into the bush to hunt brown bears. He's killed Bison, several Brown Bears and several Mule Deer with his bow and rifle with me. There is a plethora of reasons hunters keep coming back time and again to hunt with me. They get awesome fun, fantastic experiences and brilliant value...and usually that take incredible trophies! Mark just booked ANOTHER Archery Mule Deer hunt for 2022! Thanks Mark.
Hunters have been enjoying dry prairie dog towns hunting at Jim River Guide Service this week. Hunters keep returning to enjoy The Ultimate Guided Experience.
On the days we catch rains, I've been easily able to dodge them to keep my hunters shooting. I've got prairie dog towns scattered over 100 miles so when it comes to dodging rain, I'm not perfect, but I am the best in the business. I'm proud of that. I keep making this point because rain is about the only thing that is going to keep you from having fun when you invest in a prairie dog hunt. It is a huge deal.
I take prairie dog hunting very seriously. It's important to me. I'm proud to say I've got over 1,500 days experience personally guiding prairie dog hunters. That's a lot. I speak from experience. If anybody can help make you a better shooter, I can. Be ready to have scads of fun.
If nobody has told you, getting .223 ammo is now as easy as making a phone call. If you want to take advantage of it and go prairie dog hunting before next year CALL MY PHONE TODAY so we can get you scheduled. Time is running out. And hunters are starting to book for 2022.
THIS WEEK:
>Long time client and friend Mark just booked another Archery Mule Deer hunt for 2022.
>New customer Kevin just booked his Super Trophy Bull Buffalo hunt for January.
>New customer Kevin also put down his nonrefundable deposit to book his 2025 Rifle Mule Deer hunt.
Booking a hunt several years out makes sense for these three reasons:
1. EXCELLENCE> You can easily get on the books with the BEST outfitters in the world.
2. VALUE> You get to take advantage of this year's price on a hunt to take place in the future. Often times that's a cost savings of $1,000-2,000 or even more!
3. PREPERATION> You get plenty of time to plan for the trip.
Start a working relationship with me this year. Or if you've hunted with me before, let's get the next hunt for 2022 on the books now.
*I have one spot for one ARCHERY MULE DEER HUNTER open for this fall. When I offer these last minute hunt opportunities, they always sell within 48 hours. If you want it, call me NOW before somebody else gets it. I treat everybody the same. The first guy to put a 50% nonrefundable deposit across my desk gets the dates. That gives everybody the same chance to do business with me.
Contact me today about booking a fantastic adventure. I still have some opening for buffalo hunting this fall/winter. It's a great way to see if you want to book your Alaska brown bear or moose hunt with me!
Contact Information
Please call or
e-mail
me with any questions or to get a list of ALL my clients from last year.
Jim River Guide Service
Willie Dvorak
432 Railway Avenue
Mellette, SD 57461

Text or phone: 605-228-8162
E-mail