South Dakota Hunting Blog
Bow Hunting in South Dakota for Deer
---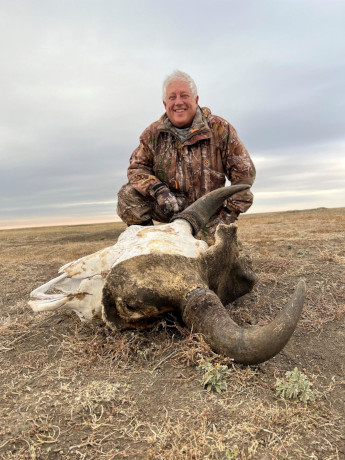 We stumbled onto this old buffalo skull on a mule deer stalk. We hunt free range archery mule deer in some of the same places we hunt bison. This bull would have been a Trophy Bull. He's big, but just doesn't have what it takes to be a Super Trophy Bull at Jim River Guide Service.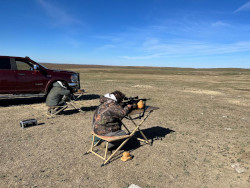 Father/Son David/Alex
David and Alex picked the two windiest days we had this year for prairie dog hunting. It would make some tough guys whine. But not these guys. They beared down. The first day was tough, but they learned a lot and put it to good use on day two. With fantastic character like these guys showed, they are welcome in my camps anytime.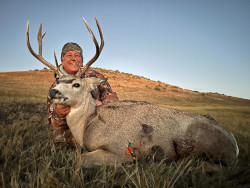 Mark with his third archery mule deer
This deer provided us with one of the most memorable stories of archery mule deer hunting I have in 24 years.
Jim River Guide Service delivers The Ultimate Guided Experience.
This is a fantastic advertisement for my archery hunts. This all happened on Mark's archery hunt:
A. Stumbled onto an awesome bison skull.
B. Had a stalk blown on a nice buck because a bull bison came over the hill too close for comfort.
C. Missed a nice buck at 24 yards.
D. Missed an incredible chance at a dandy that stopped at 8 yards. "If the truth be told, I think I got fixated on the giant rack for a little too long and the next thing you know, he was gone."
E. I called a coyote into less than 20 yards, but it never gave the hunter a good chance with his bow.
F. Mark made a less-than-perfect shot on the buck in the picture but bounced back and after we snuck up on him again, made a great running shot that connected at 60 yards to pull himself out of a pickle. Being able to show some humility AND being able to bounce back from some easy misses is a skill and characteristic of hunters who are mentally tough. I am proud of how Mark continues to learn and come through like a pro. That kind of mettle is awesome!
It is a huge mistake to book an archery hunt with somebody who is likely to give you a fantastic chance at a great trophy. What the hell does that mean?
"I'm a good judge of talent. I've become so successful in business because I surround myself with talented people. With talent, everything else just falls into place. When it comes to guiding, nobody has more talent than Willie. Call me anytime to discuss it." Mark, OH
Biggest mistake: Only a foolish bow hunter will bank on ONE chance being enough! When bow hunting, book a hunt with somebody that plans to get you in the kill-zone several times. That's how come I consistently produce 100% kill on archery hunts and other outfits claim 100% "chance" but only put about 30-50% of their "chances" in the back of the pickup! That's a big deal. My success comes down to how I approach guiding my archery hunts. This is how I do it:
1. I let claims of the hunters' long-range shooting ability go in one ear and out the other. I plan to get my hunters within 30 yards for an ethical KILL, not a "chance".
2. I let claims of the hunters' need for "just one chance" go in one ear and out the other too. I plan to give him several chances to make it happen. And I love it!
This valuable fundamental has allowed me to put a fantastic number of great trophies on the walls for my hunters. My KILL rate is one of the best in the world for fair-chase archery hunting. It's great when my hunter doesn't have to go back home and say, "I got my chance and fluffed it." Instead, they can go back home and say, "Even though Willie got me to close range, I could have shot him at a country mile..." I am proud of my success rate and it is the reason my archery hunts are so much more in demand than other outfits'. If you want a fantastic archery hunt, call me.
Contact Information
Please call or
e-mail
me with any questions or to get a list of ALL my clients from last year.
Jim River Guide Service
Willie Dvorak
432 Railway Avenue
Mellette, SD 57461

Text or Phone: 605-228-8162
E-mail