South Dakota Hunting Blog
Fort Pierre, South Dakota...Prairie Dog Hunting Capital of the World
---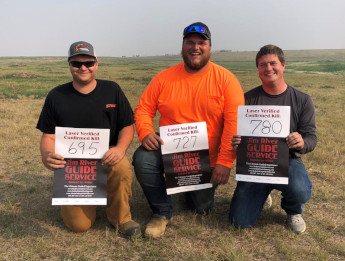 Matt (right) set up the prairie dog hunt for Wes and Dominic. "Don't risk it going anywhere else."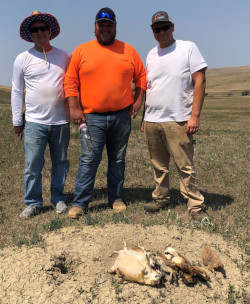 Day one brought record heat for the year...
111 degrees is HOT. Anytime you book a hunt, you run the risk of Mother Nature throwing you a curve ball. That keeps most people from having the courage to get into sport hunting. They just don't have the desire for thrills and adventure. That is NOT the case with these guys. The hot weather didn't keep them from having a brilliant day of shooting prairie dogs in Fort Pierre, South Dakota with Jim River Guide Service...The Prairie Dog Hunting Capital of the World.
South Dakota coyotes...
When it comes to killing coyotes, I can't get enough. My ranchers love me! I've called in hundreds. I was able to put Dominic in perfect position to dump this coyote at about 120 yards as he was harassing a herd of horses on a horse ranch. Ask me about hunting coyotes for free on prairie dog hunts when you book the hunt. What a great way to start off the day. Excellent shooting Dominic.
Jim River Guide Service is the premier prairie dog hunting destination in the world. It's not even close. Enjoy The Ultimate Guided Experience while you hunt prairie dogs. There is only a month or two of prairie dog hunting left this year. IT IS THE PERFECT TIME TO BOOK YOUR 2022 HUNT TO GET THE DATES YOU WANT.
Do you think you should hunt prairie dogs without a guide? You can, but should you? Ask any of my customers and they'll tell you an honest answer. I provide the names of ALL of them instead of a cherry-picked reference list like other outfits send. I am proud I can afford to do that.
I guide my clients on over 200,000 acres of PRIVATE LAND. No Reservation land or Indian guides to hassle with and you don't have to worry about the crowds hunting public land! This is a better kind of experience all together. I've guided over 1,500 prairie dog hunters and watched over 2,000,000 rounds go down range at prairie dogs. It's no wonder hunter who don't want unneeded risk book their hunts with me. It's the smart thing to do.
I personally guide all the hunters and stay with you all day in case you need a few pointers or the shooting slows down and relocating is required to keep you shooting. My land is spread out over 100 miles so I can dodge rain storms better than EVERYBODY in the business. That's a big deal. I don't shoot my dog towns more than once every two weeks. Everybody else shoots their dog towns just about everyday and they only hunt their ground and maybe their neighbors. One small thunderstorm puts them out of business for a day. You don't want that when you drive half-way across the country...YOU WANT TO BE SHOOTING! Don't over-think it, if you want to have a great prairie dog hunt, call me.
"I have been following you for several years. I have to admit I doubted that you were as great as you and everybody said you were. I didn't think it was possible that somebody could be that much better than everybody else. Now that I've been here, I see it's true. You really take this deal serious. I'd recommend you to anybody." Jim, MI
It is fantastic to be guided by somebody that takes the hunting business as serious as you take the sport. That's true, at not very common. Hearing a rancher tell you "I think we can find you some dogs to shoot at..." is a good indication that you should be looking for somebody else to go hunting with.
Text or phone me at 605-228-8162 or e-mail me immediately if you want that date for buffalo hunting this year. If I don't reply quickly enough, call my wife Julie at 605-228-8162 and she'll email you information. I hate to loose business because I'm too busy guiding hunters. A hunt in South Dakota might be the perfect way for us to get to know one another.
---
Contact Information
Please call or
e-mail
me with any questions or to get a list of ALL my clients from last year.
Jim River Guide Service
Willie Dvorak
432 Railway Avenue
Mellette, SD 57461

Text or phone: 605-228-8162
E-mail