South Dakota Hunting Blog
1,000 Yard Prairie Dog Kills
---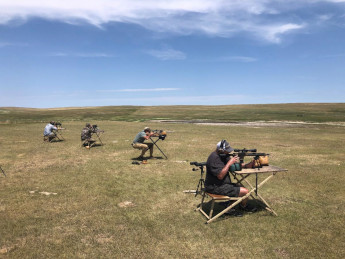 Repeat customer Bill with Greg, Jay and Dan shooting a matching set of .223 semi-auto rifles.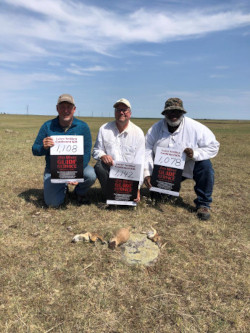 THREE guys with 1,000 yard kills!
Repeat PA clients Bart, Andrew and Jeff all killed prairie dogs past 1,000 in 20-25 mph winds. These great shooters prove what can be done. It is always enjoyable having these guys as guests on the prairie. Andrew has hunted SIXTEEN years with me. Fantastic shooting guys!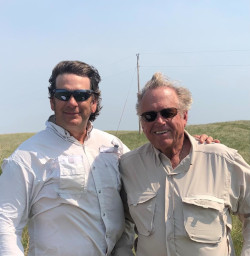 Repeat Customer Mike...
...Mike and I have had a lot of adventures together. He's hunted prairie dogs 9 times, buffalo once, rifle mule deer once and killed one of the biggest mule deer ever, and he's come out for winter coyotes several times. Each time I get some hilarious stories and brilliant comradery.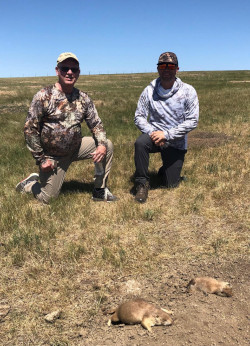 Repeat customer Eugene...
...brought new customer Andy this year. Repeat customers are a big deal for me and my business. If you own your own business, you know what I am talking about. My goal when you come hunting with me the first time is to show you such an AWESOME time that you can't help but want to come back. I have the best repeat customers.
The prairie dog hunting has been incredible. The experience is always the best at Jim River Guide Service. I never hunt a town more than once every 2 weeks so the dogs aren't so spooky. That's a big deal. Most prairie dog hunting outfits hunt their dogs every day. And none of those prairie dog outfits have the ability to dodge rain like JRGS. Hunting with JRGS is The Ultimate Guided Experience.
The number of Americans seeking thrills have bounced back to booking hunts like never before. The rest of the world will be following suit as soon as a few of the travel restrictions are lifted. I can't wait to get the foreign clients back! They are a big part of my business. Now is the time to book your hunt before the prices go up due to demand.
"I have hunted all around the world. Willie is the only guy that I've hunted more than once with and I hunted with him about 15 times. Willie is the best. If you are going to go hunting, go with him." Mike, MN
When you go on your first trip with me, you will immediately see a difference from the other hunts you've been on. Professionalism, honesty, enthusiasm, hustle, skill, integrity... If you can make an excellent decision faster than the other guy, you can get an outstanding hunt booked with JRGS.
Open hunts right now:
Alaska Guided Moose - sold out until 2025
Unguided moose - available for 2022 and 2023
Alaska Brown Bear - only two spots left for 2022
South Dakota Rifle Mule Deer - sold out until 2025
South Dakota Archer Mule Deer - 3 spots open for 2022
Bison several MEAT Bulls available, but only a few TROPHY and SUPER TROPHY Bulls left for this fall/winter. Call me today.
There is no secret why my hunts are booked out so far ahead...they are incredible. The value is the best. Hunters who've hunted with me before know exactly what I'm talking about. If you want to hunt with Jim River Guide Service THIS YEAR, call me to set up a thrilling American buffalo hunt. They never fail to amaze the hunter. There's many reasons why I'm the premier bison hunting destination in the world.
There is no better way to check out an outfitter than to book a hunt with him. If you think you ever want to hunt brown bear in Alaska, booking an American Buffalo hunt NOW makes perfect sense. You'll get a fabulous hunting experience and lay the groundwork for your Alaska Brown Bear hunt with the same guy that's going to be guiding you in Alaska. When you are in the kill zone of a big brown bear, it is nice to have already been there and know you can count on your guide.
Plan to have an experience of a lifetime on the buffalo hunt and the brown bear hunt!
Thanks to OH hunter Mark....
He first hunted buffalo with me. That's where it all started. Then he immediately booked a brown bear hunt with me. Since then he's hunted twice a year with me for archery mule deer, rifle mule deer, more Alaska brown bears, and prairie dogs. In a few weeks I am guiding him in Alaska for the 3rd time. Mark has a South Dakota archery deer hunt coming up right after that. This week he just booked another rifle mule deer hunt with me! Mark can hunt anywhere in the world that he wants, he chooses to hunt with me. I am proud of that. Every day Mark is in camp means there are going to be laughs, excitement and fun. I am proud to take him hunting.
Beat the other guy and give me a call NOW. We'll get you on the schedule for a fantastic hunting experience. What do YOU want to hunt next?
---
Contact Information
Please call or
e-mail
me with any questions or to get a list of ALL my clients from last year.
Jim River Guide Service
Willie Dvorak
432 Railway Avenue
Mellette, SD 57461

Text or phone: 605-228-8162
E-mail